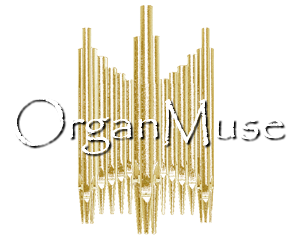 ---
A Quick Welcome...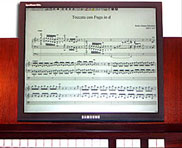 OrganMuse™ is the world's first, and only, fully-automatic page turner and performance assistant for organs. There are a number of new features on our new site and we invite you to explore them all at your leisure. If you have any questions, feel free to contact us by E-Mail or by phone.
---
The Latest News...
July 11, 2012 - The OrganMuse instruction manual is now available for download as a PDF document on the "What is Organmuse?" page.


July 7, 2012 - The AGO National Convention is Nashville was a great success. People from all over the world, including representatives from several of the largest pipe organ builders, visited the OrganMuse booth and were impressed and fascinated. One organ company representative proclaimed that he believed it to be the future of organ music, and they intended to embed the OrganMuse system in the music racks of all their organs within the next few years. Stay tuned for more news!


June 15, 2012 - Come visit us as the AGO National Convention in Nashville, July 1-6. We'll be at booth 201. Hope to see you there!


March 12, 2012 - Our music library continues to expand! We now have 91 works available in the library, with many more on the way!
---